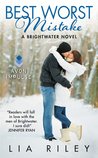 Best Worst Mistake
by
Lia Riley
My rating:
5 of 5 stars
The past and the future hold such power…
Wilder Kane and Quinn Higsby were hiding. Not from each other or anyone else but from, respectively, the past and the future. By a quirk of fate or the luck of a book title the two meet and are drawn to each other even as they both fight against it. Wilder is a self-imposed recluse who is nursing his physical wounds behind a wall of stony indifference. That is not the only reason he keeps himself aloof from the community and even his own family. Quinn though has other ideas as the two seem to be forced together both by circumstance and design. She has her own reasons to keep her distance but she can't help what she feels and is willing to try living in the moment. And this moment feels very good indeed….
"Don't sound so shocked that a person might like you, Wilder Kane."
This story was a treat from start to finish as Wilder and Quinn come together despite their frank and open need to not want to be together. They are at turns funny and sarcastic and sweet and scorching. Well, the sheets were scorching as the two couldn't resist each other in and out of the bedroom.
The two just seemed right for each other, nothing forced, no unnecessary drama – even if there was drama galore. This is the first book in the series that I've read but Wilder's brothers and grandmother add so much to this story I can't wait to catch up on their stories.
So much is happening in this story but it all blends together in a complex plot that kept me riveted to the very end.
"Being afraid and fighting back is the true meaning of courage."
And that can sum up the character of both Wilder and Quinn – one of the many reasons their story will stick with me.
View all my reviews