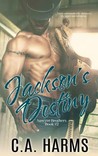 Jackson's Destiny
by
C.A. Harms
My rating:
4 of 5 stars
Love, sadness and happiness… it has everything!
Okay, I admit this story had me sniffling through the first few chapters. Hunky cowboys cry too so I didn't feel embarrassed at all… Grief haunted the Sawyer family and Jackson felt it probably most of all. In good and bad, you can count on family and friends to see you through and this series is all about those strong bonds. Even with all the support, Bailey Whitmore managed to get through to him where others couldn't. Bailey knew about darkness and seemed to understand and empathize in a way that spoke to him.
As their relationship deepened, hurdles just seemed to naturally fall into their path. One particular speed bump, in the form of a woman from Jack's past, insisted on pushing herself into the present. Jack and Bailey had a plan but when push came to shove Bailey knew how to handle things, and herself, to get the job done.
Girl talk to make you laugh and blush and sexy scenes that keep you red make for a wonderful addition to this series. Characters that are sexy, feisty and, above all, so good together made this story another one to remember.
"What about yours? Your happiness," she asked. "Who is going to bring back yours?"
"You already are, darlin', you already are,"….
*swoon* I love these Sawyer boys!