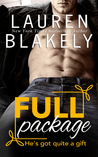 Full Package
by
Lauren Blakely
My rating:
5 of 5 stars
Just what the doctor order!
This was another fabulously funny and sexy book from Lauren Blakely. Long time friends, Chase the doctor and Josie the baker, decide to fix their housing problems by rooming together. Sounds like a great plan right?!?! Well you all know about good intentions.
Told from mostly Dr. McHottie's POV we have an inside and hilarious look at the ER as well as his growing problem with his "just friend" status. He is supposed to be able to compartmentalize his feelings but being this close to his best friend is starting to wear on his resolve. There is only so many Swedish fish creations and girly smells one man can handle. It's how he handles it that makes this story even more entertaining, dirty innuendos and all.
This was just a fun book from beginning to end. It was sweet and smoking. I enjoyed the pages of Josie's cookbook to allow the reader to get a little insight from her. This book was light and really a great break for me. I read a lot of dark/heavy/intense books and this was just what I needed. We even got to see some of the characters from prior books that are always good for a smile or two or million. So if you are looking for something to make you smile, swoon and fall in love...this is the Full Package.
View all my reviews