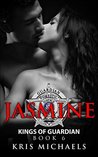 Jasmine
by
Kris Michaels
My rating:
5 of 5 stars
This story has it all!
I have stalked this series from the very first book! Well, technically, I started with the second but Joseph led to Jacob and… the rest is history. Romance, suspense and intrigue are woven together with strong characters, heartfelt emotions and stories that had my heart racing for more than one reason. Each time I read another installment I want to go back and start the set all over again. This time was no exception!
With her brothers covering most of the free-market on testosterone, it is no surprise that Jasmine King can hold her own. I fell in love with this character from the opening pages as she kicked butt and took names even after the day from hell. She took everything in stride, and there was a lot to take in. Seeing her composure unbroken was a testament to her control yet I couldn't help but enjoy watching it rattled by the country bad boy…
Chad Nelson crossed her path as her newest job. A complicated case that was going to stretch her abilities. Professionally? Maybe. Personally? Definitely! He may have a certain reputation but he was more than just sultry sin and he wasn't afraid to show that side of himself… to her.
Match meet strike. Flame meet torch. Oh baby, these two together were just the right fit. They definitely clicked physically and emotionally they seemed to mesh even more.
"This case had turned into so much more than a personal protection gig. Emotions were involved, his… and hers."
They simply gelled in all the good ways they could as they fought to trust each other enough. There was baggage to overcome, bad guys to foil and above all else, love to discover... My heart is so, so happy… As it waits for the next book!
View all my reviews