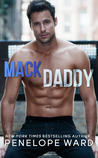 Mack Daddy
by
Penelope Ward
My rating:
4 of 5 stars
Well if you thought you knew how "second-chance" stories were supposed to go, you thought wrong. This is certainly not the norm and the bits of unexpected was what made this one unique.
Frankie is a teacher at a Catholic School in Boston, on her first day she comes face-to-face with the one person she never expected to see again. Eight years after he left with her heart, in walks the one and only Mack, with his son in tow. Mackenzie is back in the area not only because that is where is ex has landed a new job but also the get back what he lost all those years ago. And so begins our "second-chance." But their story is anything but typical, their past is different than most stories like this and even where they find themselves now in the present has a bit of spin on it.
Frankie has done a lot of growing up since the socially awkward college student Mack remembers and Mack is not quite the same ass he was back then either. These two have done a lot of growing and changing from before to now and they both find themselves in different directions. Not knowing if they can make a go of what once was, was definitely part of this books' charm. We had two characters that even when they couldn't get out of their own way, were both endearing and likable. The nuances that made this story different were the parts that I enjoyed the most. There was also a lot of drama thrown into the mix; we have exes and parents and secrets and agendas galore happening and there were a few points that I thought it was a bit much. This book also made me smile, especially when we were in the past. I had thought it would have been a bit lighter and the author does a good job of not dragging you down with heavy stuff. All-in-all it was a really good read; chemistry was threw the roof, a lot of enjoyable unexpectedness, and a story that drew you in and made you pay attention.
View all my reviews