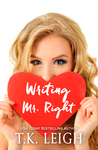 Writing Mr. Right
by
T.K. Leigh
My rating:
5 of 5 stars
☆☆☆☆☆
~ Lynzi
T.K Leigh, is one of my all time favorite authors. So when I got the chance to read and review this, I was super excited. I haven't read a book by her that has made me laugh like this one. I absolutely loved it, and it kept me giggling like a sinner in church, while thinking dirty thoughts.
I have never read a book, about an author. I was worried it would be weird, but it wasnt. Not at all. I actually loved reading and seeing, the behind the scene thoughts and workings of an author. It was rather interesting.
Molly is a best selling author who writes under the pen name of Vivienne Fox. Her stories are known for being kinky, sensual, and sexy. It's what her publishers want. It's what sells. It's what the readers want, and can't get enough of. So she pushes out book after book. But when she starts having writers block like she has never experienced before, she starts to look for inspiration. What she finds, is way more than she bargained for, and is more than she can handle. In the last person she was expecting.
This story is about overcoming the things in life that have the potential to hold you back. It's about growing as a person and finding strength in your faults. It's about love knocking down walls around guarded hearts. It's inspiration. It's dreams coming true. It's love in its simplicity, but also in its complications.
View all my reviews