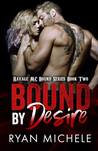 Bound by Desire
by
Ryan Michele
My rating:
5 of 5 stars
Bound by Desire is the latest installment of Ryan Michele's Ravage MC Bound series and I can't believe I am saying this but it is far the best one yet!
I had so many emotions reading this book that I couldn't process them all at one time. Deke, well Deke just broke my heart. I was so heartbroken for his pain, his self imposed exile, his stupid choices he made as a kid, and his struggle to fight his demons. After the heartbreak came anger. I was so angry that the people that should have had his back were no where to be found. I was beyond furious at G.T. because not only was he Deke's father but he should have seen that Deke was not the same stupid kid. And I was down right mad at Ryan Michele because of the reason Deke couldn't leave after he came back.
That being said I was completely crazy for Deke and Rylie. I don't think I have ever read about two people who were more fitting for each other than this couple. The chemistry was instant and intense. I just wanted more. More of their passion and more of their connection.
I am a big fan of this series and even bigger fan of this author. This was an emotional ride but I loved every second of it!
View all my reviews