Tuesday, September 18, 2018
#TeaserTuesday
All the Right Moves by Becca Taylor
Coming
October 13th
BLURB
Being called the worst boyfriend can do a number on a man's ego.
But I handled it the way any full-grown adult male would—by eating copious amounts of carbs and wallowing over whether I was good enough.
I admit, it wasn't the best of moments, but it made me realize I needed answers to the question, what are women looking for inside and out of the bedroom?
After I researched the subject, I compiled my data into a solution.
Thirty days.
Thirty right moves.
But I needed to test out my newfound theories, and my best friend, Tenley, was going to help.
It was a foolproof plan.
We would date and act like a real couple, all in the name of research. And when the thirty days were up, we would go back to being just friends.
Piece of cake, right?
Only, I forgot to take into consideration the multiple outcomes. Specifically, the one where it left me wanting more and refusing to go back to what we were... ever again.
***Bloggers: If you would like to be part of my release blitz or read an ARC of All the Right Moves sign up here.
Monday, September 17, 2018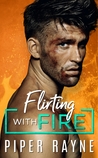 Flirting with Fire
by
Piper Rayne
My rating:
5 of 5 stars
Piper Rayne has done it yet again. They gave me a fantastic story with great characters and a beautiful romance that I enjoyed reading so much.
Madison and Mauro are a couple that I'm going to think about, and fawn over how amazing they were, for a long time to come. I feel like Piper Rayne outdid themselves with these two. Madison is this smart, driven, and beautiful both inside and out kind of woman. She's always loved Mauro and her infatuation took me back to the days when I had those grade school crushes where I doodled Mrs. So and So on my notebook. Mauro was like so many popular guys I remember from that time too. But what I loved is the kind of people these two grew into. Neither let their past really dictate who they were going to be, at least not in any negative ways. They came out good people on the other side of high school and I really loved the message or moral of the story conveyed by Piper Rayne in this book.
Now I'm excited for what's to come. Madison's two best friends, along with Mauro's brothers, got some really good scenes in this one and it only has me more excited to read about these characters in the next two books. They were given some strong foundation and I cannot wait to see what direction their stories take as I have the chance to get to know those characters better. I highly recommend this one to contemporary fans, especially since you get a sexy firefighter in the deal.
View all my reviews