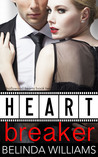 Heartbreaker
by
Belinda Williams
My rating:
4 of 5 stars
☆☆☆☆.5
~ Cassie
Heartbreaker is the second book in the Hollywood Hearts series. Each book can be read as a standalone. I do recommend reading the first book because this is a great series!
Heartbreaker is Lena and Marc's story. We meet both of these characters in Heartthrob and I love how the characters were interwoven into this story too. Lena is an actress is who so down to earth that you cannot help but to love her. But she seems to have a stalker problem and Marc is assigned to her case. Lena and Marc have history because he was also on the case when her best friend had a stalker problem too. Marc and Lena do not exactly hit it off during their other meetings and neither of them seem thrilled to be forced together again. Marc is a mystery and hard to get a beat on. Even the little bit that Lena can get out of him leads to more questions than answers. Marc is literally tall, dark and mysterious.
They are forced together because of the danger that Lena is in and that makes it hard for them to ignore the attraction they have for each other. And they definitely have chemistry that everyone else around them can see so obviously, but they are trying so hard to deny. If they can learn to bring their walls down and trust each other these two can have something special. Can they get past the danger and their own issues to get the happily ever after they deserve?
I am loving this series and Belinda Williams gets better with each book! I love how she continues to weave in the secondary characters and makes us want to know as much about them as the main characters, and because of this I cannot wait for everyone else's books! I highly recommend this series as a must read.
View all my reviews