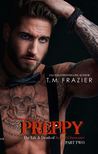 Preppy: The Life & Death of Samuel Clearwater, Part Two
by
T.M. Frazier
My rating:
5 of 5 stars
Preppy is back from the dead and his life and times are nothing short of addicting. This part picks up right where part one left off and boy its a wild and deep ride. The life of the living isn't all sunshine and roses though. If anything it is painful and a little messed up.
This has been a wild journey for all of those in Logan Beach and it appears it's not over yet. From the little bits and pieces that make you go "hmmm" and then the surprise ending it still has my mind churning some time later. Samuel Clearwater is one hell of a center piece for this story. He is complex and broken. He is witty and a bit insane. Dre is back after years of being away to find closure but what she finds instead is complications. Lots and lots of complications, especially one big one called Preppy. Dre is too a complicated character, she is strong and fun and caring but most she has learned to stand on her own two feet.
I have loved these books and this evolving story line. It is always a pleasure to see the others interacting and their lives moving forward. Preppy has this way of bringing out the best and sometimes the worst of everyone. The antics and the side conversations make you feel like you are a part of this world. It makes you feel like you know them and are a part of something. Being that I have become involved in this story, I felt fear and sadness and the crazy chemistry soul deep. I gobbled this up, partially on the edge of my seat only left looking for more and then trying to go back and find clues to help me with what just happened. All I know is that I can't wait for more because I need answers.
View all my reviews