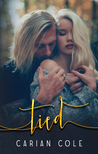 Tied
by
Carian Cole
My rating:
4.5 of 5 stars
What an unexpected journey. This was a bit of an unconventional read which is a quality that will make it stand-out over time. I have never read this author before and I was captivated by this story. It was unexpected with a lot of emotion and feels and not as much grit and darkness as I thought it might have.
Holly is rescued by her prince after 10 longs years in captivity. Her situation, rescue and aftermath were all a bit out of the ordinary. You would expect joyous reunions and counseling but instead you have awkwardness and my growing distaste for her family. Her hero though, the prince who found her he might have just as many broken pieces as she does.
Tyler has a pretty rough backstory and rough in the sense that it hurt my heart. My soul ached for his life before and where he is now. There is something so remarkable about a broken hero that does and behaves the way that Tyler does in this book. He is full of contradictions and I only wish that there were more of his pieces getting put back together.
These two make an unlikely and interesting pair. It is not a fast and furious relationship, it is slow and careful. There are points that you're not even sure if there is a love story under all of this brokenness. It was beautiful to watch Holly do more and experience more and be more after her whole childhood was taken away. It's not smooth sailing though, there are struggles and setbacks and issues that make this really a journey more so than a story.
I have to say now that I discovered this author she has found a stalker...I mean fan. The writing was great and the story while difficult was well planned out and superbly written.
View all my reviews